New Hampshire Police Officer's Wife Indicted on Charges of DWI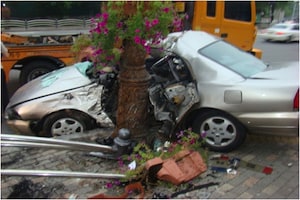 BRENTWOOD, N.H. _ A New Hampshire police officer's wife has been indicted on charges of driving while intoxicated.
According to court records, Stacy L. Watson, 42, caused a crash while driving drunk on Dec. 22, 2012. Authorities say she fractured her ribs and a bone in her foot.
DWI in New Hampshire is a serious offense and if you find yourself facing such charges, you should consult an attorney who specializes in cases involving drunk driving.
It took more than a year for the case to end up with a Rockingham Superior Court grand jury. In February, they returned an indictment with a charge of aggravated driving while intoxicated. If she's found guilty of the Class B felony, Watson could face between 3 ½ and 7 years in prison.
The 2005 Cadillac Escalade driven by the Seabrook woman hit a tree after leaving the road that night.
The Hampton Union reported that Watson was taken to Anna Jaques Hospital in Newburyport, Mass., before being transferred to a Boston hospital for further treatment of her injuries.
Watson is married to a Seabrook police officer, John Watson. Seabrook Police Chief said the New Hampshire State Police took over the investigation to avoid a conflict of interest. He says that is a typical request when a family member is involved.
In New Hampshire DWI is an incredibly serious offense. It is advisable for anyone facing a DWI-related offense to seek the advice of a criminal lawyer who specializes in drunk driving cases.
There was no word on what Watson's blood alcohol content was. But investigators typically conduct field sobriety tests to determine whether someone was driving while intoxicated. Since Watson was injured she was taken to a hospital.
The state's implied consent law says that drivers are required to take a breath test or a blood test if they are arrested on DWI charges. There are substantial penalties for refusal to take the tests. If this is your second offense, you could lose your driver's license for two years. For first-time offenders, the suspension would last 180 days.
State law says that if someone refuses to take a blood, breath or urine test, they can't be forced to do so. But in cases like Watson's where she caused injury to herself _ or injure or kill another person _ a police officer can order a test without asking you. And, the test can be administered if you are unconscious even if you haven't been arrested.
This is why it's essential to get the help of a lawyer who is well-versed in DWI laws.
New Hampshire recorded 27 fatalities in crashing involving alcohol in 2011, according to The Century Council, Distillers, Fighting Drunk Driving & Underage Drinking. Countless other cases, like Watson's, leave victims with injuries.
In 2013, there were 4,571 arrests for DWI in New Hampshire, which has a population of 1.3 million.
There are serious consequences for those convicted of driving while intoxicated in New Hampshire. That's why it's imperative to get quality advice from a criminal attorney as soon as possible after an arrest.
An arrest for DWI in New Hampshire can lead to steep court fines and suspension of your driver's license. Offenders can also get hefty jail sentences and be required to participate in an alcohol treatment program.
The state's Department of Safety and Division of Motor Vehicles points out that a DWI conviction doesn't mean you'll never get another driver's license. The DMV's point system comes into play, along with other factors relating to your arrest.
Your attorney can go over the specifics stemming from each individual case. But drivers can apply to have their driver's licenses reinstated after the suspension is finished and any jail time or treatment is completed. The Division of Motor Vehicles' Bureau of Financial Responsibility offers tips for getting your driver's license reinstated.
Watson's case, after a year-long delay, is about to head to court. And authorities say the fact that the she was injured in the crash will factor into the sentence she eventually receives.