Driver's License Revoked Following Arrest on Charges of Driving While Intoxicated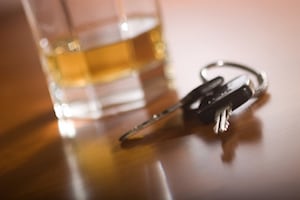 CONCORD, N. H. _ A 46-year-old man had his driver's license revoked following his arrest on charges of driving while intoxicated.
James A. Derman was arrested in April 2013 after police say a concerned citizen called 911 about a man who was driving in black sports utility vehicle while apparently intoxicated. The caller said he heard a loud crash and spinning tires.
The officers drove around the area looking for the man in the SUV. Finally a man flagged down an officer and indicated the man was parked in a driveway next to a local restaurant.
According to court records, a woman was standing by the vehicle begging the man not to drive.
Anyone facing a New Hampshire DWI should contact an attorney who specializes in cases involving driving while intoxicated.
New Hampshire considers driving while intoxicated a serious offense, even for first-time offenders.
An affidavit shows that the police officer spoke to Derman, who was having a hard time walking once he stepped out of the vehicle. The officer wrote in his report that he could "immediately smell a strong odor of an alcoholic beverage."
The officer said the driver was intoxicated. In his report, he wrote that Derman agreed to do a field sobriety test, but then recanted. He told the officer he wasn't driver.
The driver was arrested and taken to the police station for processing. A DWI in New Hampshire is a serious charge and should not be taken lightly.
Derman was not a model citizen during the booking process. According to court records, he told refused to have his fingerprints taken. He also said he had not had an alcoholic drink in more than a year.
It is important for officials to record the driver's blood alcohol, or BAC, as soon after the incident as possible. A blood alcohol level over .08 means that the driver is outside the legal limit required to drive New Hampshire. But even in the BAC is below that margin, an officer can still make an arrest. This happens when the officer questions the motorist's driving skills. Among the things police officer consider are driving too slow or too fast, straddling lines in the road, swerving, starting with a jerk after a red light, or passing improperly.
In New Hampshire, there are various penalties for driving while intoxicated. These include court fines _ which can be hefty. And drivers can sometimes have their driver's licenses suspended or revoked. In some cases the driver is sent to jail.
That's why it's a good idea to contact a lawyer with experience in DWI in New Hampshire.
Derman, the man accused of drunk driving in concord, hasn't helped his situation by his actions on the night of his arrest.
Records show that in addition to interfering with the booking process at the police station, he told authorities he was going to "sue the police." They say that when he learned he was being taken to the Merrimack County House of Correction, Derman laid down on the floor and refused to go. When he wouldn't respond to requests by the officers, he was taken to a hospital to be medically cleared.
Remember that when you are issued a driver's license in New Hampshire, you agree to implied consent. What does this mean? It means that in essence, you've agreed to participate in field sobriety tests if stopped by police officers, according to the division of motor vehicles. If you refuse to take the tests, under implied consent, you stand to lose your license for 180 days.
It's best to speak to an attorney who specializes in New Hampshire DWI if you are facing any kind of charge associated with driving under the influence of alcohol or drugs.