Case Involving Youth Football Coach Accused in Sexual Assault of Two Girls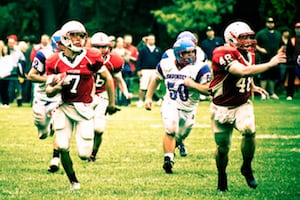 BRENTWOOD, N. H. _ A trial is underway in a case involving a youth football coach accused in the sexual assault of two young girls.
Opening arguments began Tuesday in Rockingham County Superior Court in Brentwood. Timothy Longua is a former football coach in nearby Londonderry.
According to court records, Longua faces seven charges _ including two counts of aggravated felonious sexual assault, four counts of felonious sexual assault and one count of attempted felonious sexual assault. He was indicted in June by a Rockingham County grand jury.
Prosecutors have said Longua is accused of touching two girls _ both under 13 at the time _ on the buttocks and breasts. The alleged assaults occurred in 2012.
The indictments state that the girls told them the assaults happened at Longua's home during his daughter's sleepovers. The girls were friends with his daughter. Anyone accused of sexual assault can use the advice of a criminal attorney in New Hampshire.
In June, the Londonderry Times reported that Lt. Timothy Jones of the Londonderry Police Department said authorities contacted Longua and he turned himself in on March 1, 2013. He was held initially on a $10,000 bond.
Anyone jailed over a criminal matter in Londonderry can contact a New Hampshire criminal lawyer for advice following an arrest.
According to Jones, the football coach didn't provide much information to authorities and bonded out of jail the next day. He remained free on bail and an arraignment was held in June in Rockingham County.
Police say they first learned of the allegations against Longua in February 2013. The matter was brought to their attention by officials with the state Department of Children, Youth and Families. The girls alleged that Longua, who they had known through their friend _ his daughter _ touched them in a way that was intended for sexual gratification.
The alleged assaults began in May 2012. The attempted sexual assault charge stems from an allegation that he tried to touch one of the girls and she told him to stop.
Through an attorney, Longua said he denied the charges and maintained his complete innocence. The Longua family said the allegations against him were false. He pleaded not guilty to the charges.
Longua was a football coach for the third and fourth grade Wildcats in Londonderry. He served as an assistant coach in 2012.
The high profile trial was expected to draw a lot of attention in the small community where Longua coached. Jury selection was completed on Monday and lawyers were making their opening statements before jurors on Tuesday. It was not clear how long the trial was expected to last.
If convicted he faces prison time of between 7 ½ and 15 years. If you are facing possible prison time due to an arrest, please contact a New Hampshire criminal lawyer.
If you are facing a criminal matter, please contact a criminal attorney in New Hampshire to get the most up-to-date advice on how to move forward. Don't talk to police until you've contacted a New Hampshire criminal lawyer.